Running creative & collaborative virtual workshops
By Planners, Caroline Olechowski & Amy Slesinger
We love a workshop at Guy & Co. We like them so much we have a space dedicated to them, aptly named 'The Workshop'. And though we miss our whiteboard walls and snacks fridge terribly, as an agency we're also long-time advocates of technology such as Zoom – the online video conferencing software we've all come to know and love.
So when, like the rest of the world, we made the shift to working from home, one of our first challenges was to put our Zoom know-how to use by finding a way to virtually replicate the collaborative and creative power of our in-person workshops.
A new project for client Albert Bartlett gave us the perfect excuse to try out some new techniques. We needed to generate ideas for helpful, inspiring and entertaining potato-based content for a nation under lockdown – and we had to move quickly. Inevitably, there were some teething problems. But in spite of these small snags, our virtual workshop participants generated some truly terrific ideas in just two hours, not only giving us plenty of potato content but also leaving us with a better understanding of how to make virtual workshops work for you. Here are our top three tips:
1. Give yourself plenty of time
It's often said that despite giving us more ways to communicate, technology can sometimes make communication harder. Video calls are a perfect example. While they've been a lifesaver for many businesses during this crisis, they also bring their own set of challenges – think people talking over each other, WiFi signals cutting in and out, and waiting for your colleague to remember what button to press when it's time to share their screen. Plus typing up your ideas will never be as quick as scribbling on a piece of paper.
All of these little points of friction meant that everything in our virtual workshop took slightly longer than we thought it would. We had prepared materials ahead of time, including a pre-workshop homework task, where participants interviewed family and friends who fit our target consumer profiles, and time-saving PowerPoint templates that participants could complete during the session. But despite all this, we had to extend the time allocated for our idea-generating exercises. Next time we'll make sure we build more time in our agenda.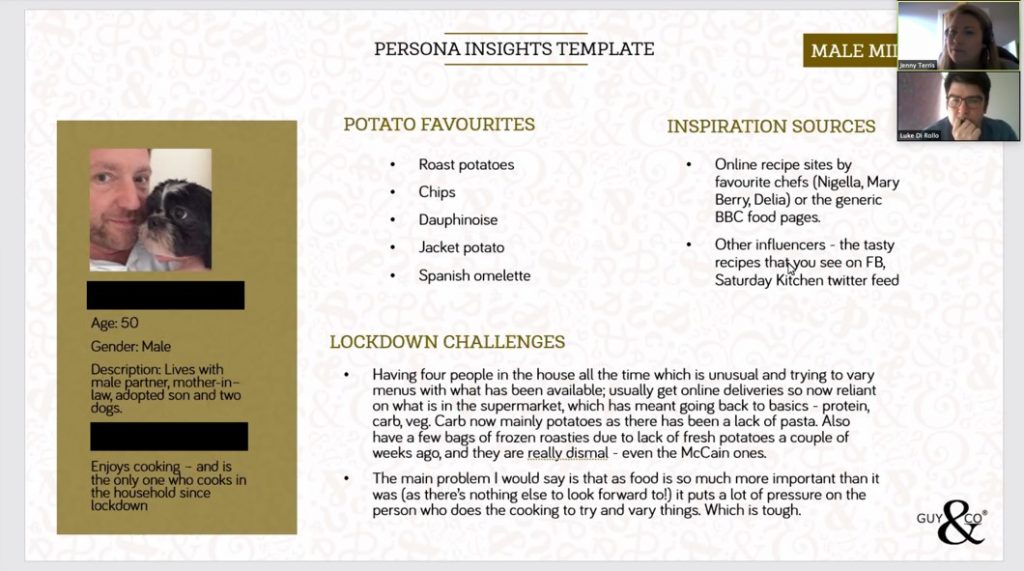 Reviewing the consumer insights homework task

2. Harness the power of smaller groups
At Guy & Co we believe that brainstorming is most effective when we can switch between large and small group exercises. The tempo change creates real energy and more focus when required on specific tasks, while exercises in smaller groups can create more space for in-depth thinking and discussion and more chances for participants to contribute.
So for our idea generation exercises, we split up our team on the video call using the Breakout Rooms feature on Zoom. This allows you to create smaller-sized groups of your choosing – you can decide on the number of groups, size of groups and either manually or randomly allocate individuals into each 'room'. The facilitator can move between rooms to see how participants are getting on, answer their questions and help challenge and build ideas.
Plus, you can set a timer for how long people discuss in these groups before the whole team is automatically brought back together on the main call – ideal for strict workshop timings!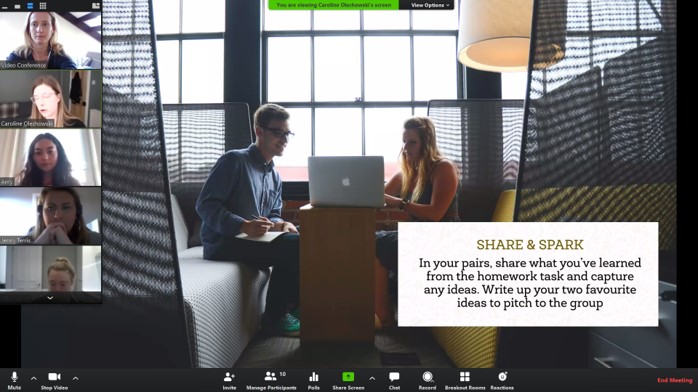 Breaking into pairs to share learnings & ideas
3. Make it interactive
Since only one person can speak at a time on a video call, they often turn into situations where most people spend most of the time listening, rather than actively participating. To keep up the creative energy (and keep people from switching off), it's important to build in plenty of interactivity into your virtual workshop.
We used Zoom's Whiteboard feature to play a game of Pictionary as a warm-up exercise. Quick-fire rounds got everyone energized and creatively primed to generate ideas.
At the end of the workshop, we took our concept harvesting technique virtual by using the Annotation tools to allow participants to vote for their favourite ideas. Each breakout group sent us their completed concept slides, which we then quickly collated behind the scenes into a master PowerPoint deck. While we shared this on-screen, participants could stick star shapes onto their favourites, allowing everyone to quickly see in real-time which had the most promise. Just remember to click save in order to have a screenshot image you can look back on later.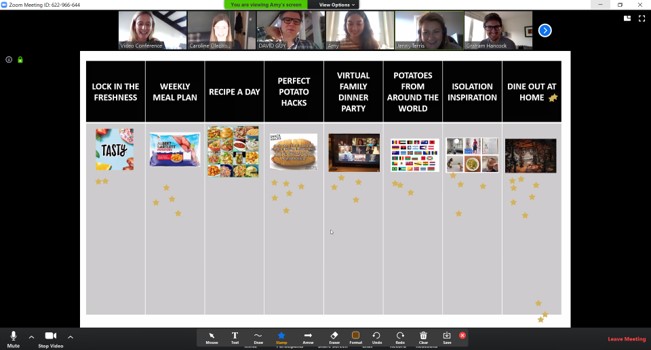 Star voting for favourite ideas
As we continue to work from home for the foreseeable future, we're proud that we've found a new way to collaborate effectively as a team to create great ideas at speed for our clients – though there's really no substitute for the traditional end of workshop beer down in our office bar!
Can we run a virtual idea generation workshop for your next innovation or communications project? Please get in touch.