Un-locking creativity during lockdown
By Graham Hancock, Art Director
1. Create a routine and routinely create
We all know having a routine is a great way to keep motivated when there's disruption in the world at large. And a great part of that routine is to challenge yourself to create every day. No matter how small or 'creative' it feels, forcing yourself to produce something is greatly rewarding and you may surprise yourself with the output.
I recently took part in the global '36 days of type' challenge which encourages you to create a letter or number each day in any way you want (photography, craft, drawing, animation). For me it was a great opportunity to work on typography, and I challenged myself to bring a different personality and graphic treatment to each one. Challenges like this are especially great in our current remote world, as you feel part of a big community and the accountability of posting to your social channels each day encourages you to keep going.
A great lesson I've learned from this is to not fear mistakes. As Salavador Dali said: "Have no fear of perfection. You'll never reach it." The pressure of pushing out something original and creative every day (on top of the day job) encourages you to abandon perfection and create just for the joy of it. Embracing those mistakes could always lead to something greater! But when you hit a wall, sometimes it's a good idea to just stop. Take a break, allow your mind to reset and come back afresh.
Creative challenges can be great for learning a new skill or experimenting with techniques and styles. And there are plenty of them out there. Adobe has its own daily challenge using Photoshop, and in October, thousands of creatives take part in 'Inktober' to practice hand-drawn illustration.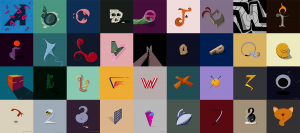 2. Share, share, share. (And don't forget to look back)
It's so easy to get caught up and lost in the now. But have you ever taken the moment to just pause and reflect on past work? Taking the time to remind yourself of past successes is hugely motivational – who doesn't want to recreate (and improve upon) those successes?
And don't forget to share your work too. At Guy & Co we share one great piece of work from the previous week at our Monday morning huddle. It's a great opportunity for everyone to see what's happening in the teams, and to share inspiration and learnings.
But don't forget to look at what others are doing. Bursting out of our bubble and exploring what's happening in the creative industry and wider culture (especially in response to coronavirus) is a great way to stay motivated. Seeing great work inspires us to create great work. So asking questions such as: 'What if we did…' or 'Why can't we…' can be a great jumping-off point for a creative push. (Just be sure not to copy!). What's more, it's human nature to focus on the things we admire or like, but by shifting our focus to creative work that performs poorly or gets a negative response, we can ask ourselves: "How can we do better?".
3. Spread the creativity
There's nothing more motivating than working together, and now more than ever it's so important to stay in touch and creatively collaborate. We've been running virtual workshop sessions and found these to be super productive, keeping our team's spirits high and creative outputs optimised.
With many experiencing quieter workloads and more time at their disposal, it's the perfect opportunity to give back – so why not volunteer your creative skills? Our team have reached out to charities to do pro-bono design and digital work, while others are using their skills to spread all-important public health messages. It's a great way to keep working together, the creative juices flowing and feel good about it too!
A great piece of advice I was given was to 'stay curious'. And I think this has become even more relevant now. Stay in touch, ask questions, explore, experiment. Delve beneath the surface and discover things you never knew. Find that something that makes you want to keep creating. For me it's trying new things – I love to learn!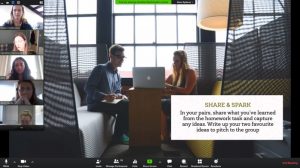 Above all I'd say keep pushing yourself (something built into our DNA at Guy & Co). Remember it's good to feel uncomfortable – this only means your skills are growing.